Sara Clayton — Product Designer based in Seattle
Assigned Access on Windows - Microsoft Project
I worked with the product manager and development team for this feature as well as with the designer for Windows Settings and the design and development team for Microsoft Edge. I delivered different explorations, wireframes, and high-fidelity prototypes for this revised flow for Assigned Access on Windows.
Role

UX Designer
For

Rethinking and shipping an updated flow for Assigned Access on Windows.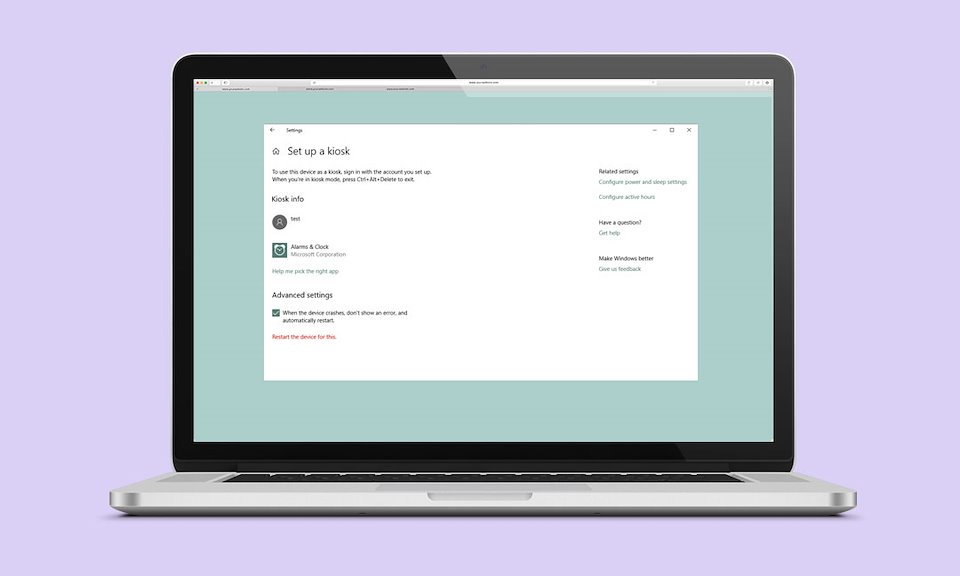 Overview
Assigned access is a feature in Windows that allows users to set up single-function devices, such as restaurant menus or airport ticket kiosks.


In other words, if you've seen a blue screen of death gone wrong in a public setting, like the example below (or the examples in this subreddit), then you're seeing a device using assigned access having some issues.
Courtesy of https://www.hongkiat.com/blog/blue-screen-of-death/
We had been increasingly hearing from customers about how complicated the initial set-up process for this feature was. So, when the redesign project kicked-off, I tried to set this feature up myself… only to be met with a lot of frustration and questions for the product manager. The flow in creating an account is shown in the video below.
Problem
Assigned access users get confused by the complex nature of the onboarding process.


Solution
Redesign the assigned access onboarding process to not only be simpler, but to also explain any concepts that users may not be familiar with throughout the process.
User journey
Based on the video, I created a timeline of perceived users' frustration. Unfortunately, aside from the user feedback we received, no benchmark testing had been conducted to measure 1) the time it took for a user to go through the flow as well as 2) user-reported ratings of the feature.
Design explorations
I came up with a few explorations on how the current flow could be simplified. But before we could proceed with these explorations, I showed them to the teams we were working hand-in-hand with for this project – the Microsoft Edge design and engineering team and the Windows Settings designer.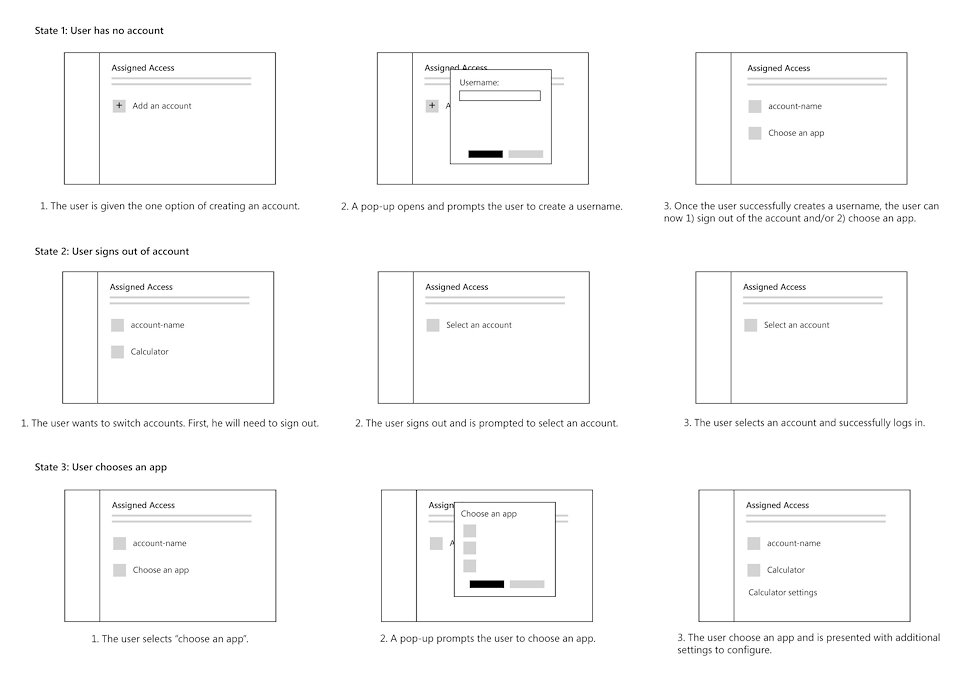 Final design
Based off of these conversations, I leveraged the design system that the Windows Settings designer had and iterated our flow with each design crit we had. The final flow is shown below.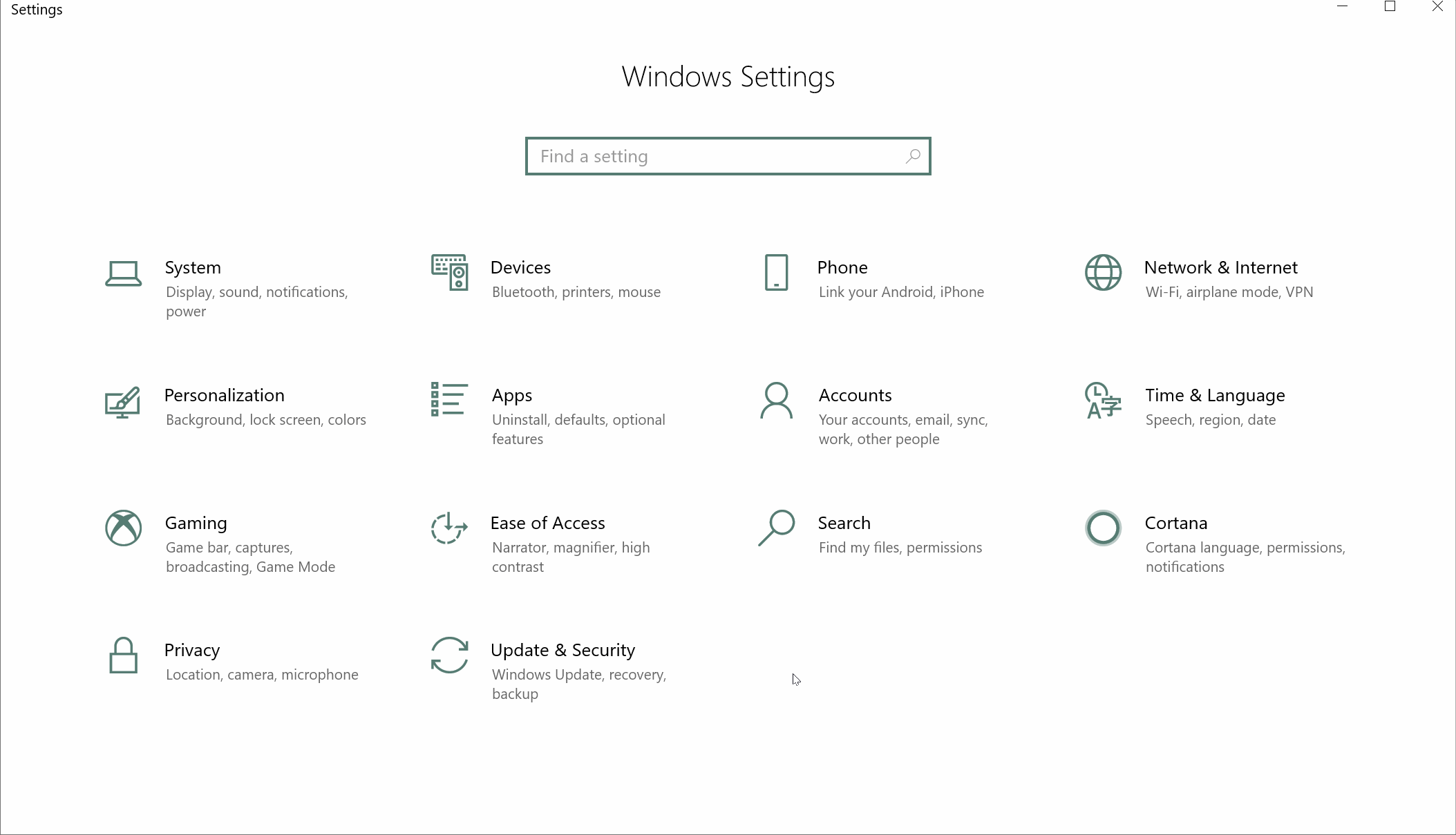 Results
With the help of our data and insights team, we were able to get feedback from approximately 70 users of the new kiosk wizard, who gave its ease-of-use a score of 4.3 (out of 5). Suggestions to make the experience better include increased application compatibility and the ability to choose a custom user image for login.
Learnings and next steps
Of the cross-team work I've done so far at Microsoft, this was one of the most enjoyable projects I've worked on. The Microsoft Edge team – everyone from the developers to the content writers – were very design-minded, which helped in putting the best experience forward. If we had more time and resources, I would have loved to conduct user research at the early stages of designing. The feature was released Windows Insider users in July 2018 and was highlighted in the July Windows Insider Program blog post, as shown below. This feature was rolled out to all Windows 10 users in November 2018.
Previous
Outvote - School Project
Next
MSW - Employee Portal - Microsoft Internal Project