Sara Clayton — Product Designer based in Seattle
Outvote is a mobile application that facilitates informative and factual conversations about issues on election ballots. This was the solution that my team came up with for the HCDE 518 class at the University of Washington.
Role

Research and prototyping
Date

October 2018 to December 2018 (2.5 months)
For

A solution to facilitate more factual, open conversations about issues on the ballot.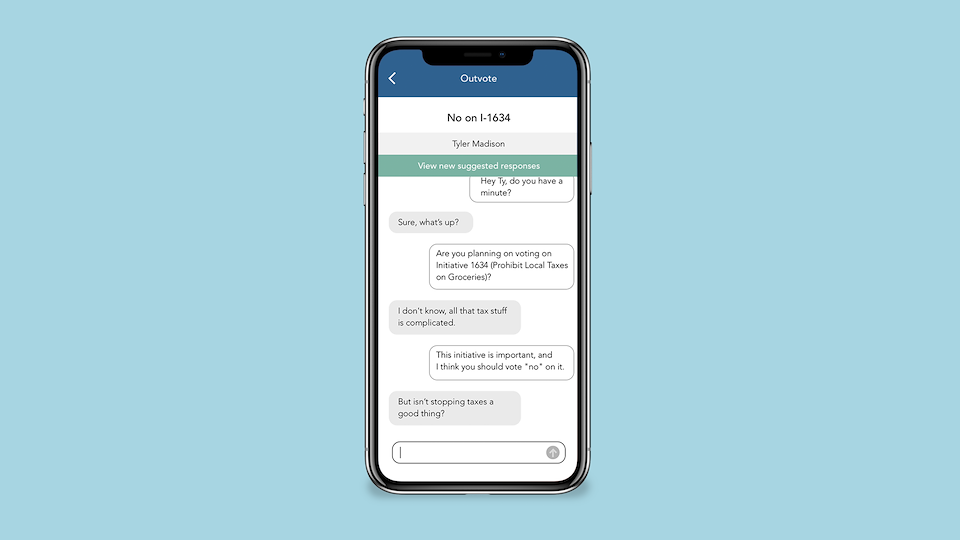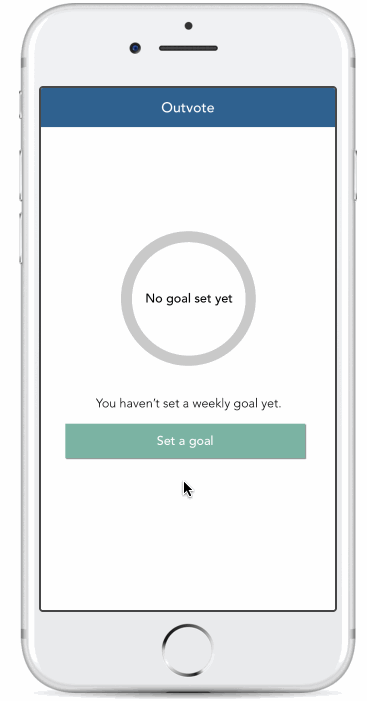 Overview
Just a few weeks shy of the 2018 midterm elections, our team decided to tackle the very serious and very real issue of voter apathy. Within the span of nine weeks, we defined and redefined our design question while ideating and eventually whittling different details down until we got our final solution, Outvote.
Defining our design question
Initially, we decided to take the bottom 10 states with the lowest voter turnout and try and glean patterns from each of these states. However, the more we dug into researching about possible causes of low voter turnout in the bottom 10 states, the more we realized there were no prominent patterns among the 10 states.



Initial design question:
How can we make it more likely for eligible voters to cast their ballot?


Because of this, we revised our design question to be more focused on helping galvanize eligible but non-engaged voters with the help of more engaged and active voters in their friend group and communities.


Revised design question:
How can we help engaged voters, who care about voting, confidently reach out to non-voters easily?
Research
We used an online survey and 1-on-1 interviews to gather more data on our potential uses and to better form our personas. The former helped with informing us about demographic information while the latter helped give us a richer understanding on motivations, thoughts, reactions, etc.
From our survey and interviews, we found the following:
Personas
Based on the information we gathered from our research, we came up with three personas: Sam, our primary persona; Alex, our secondary persona; and Taylor, our served persona. Sam is our target audience for this solution, as he's an engaged but more casual voter. However, in our research, we also came across people like Alex, who are engaged and even volunteer their time for voter-related activities. But again, this solution is not meant for Alex though she can use it. Taylor is the person that will ultimately benefit from Sam's use of this solution.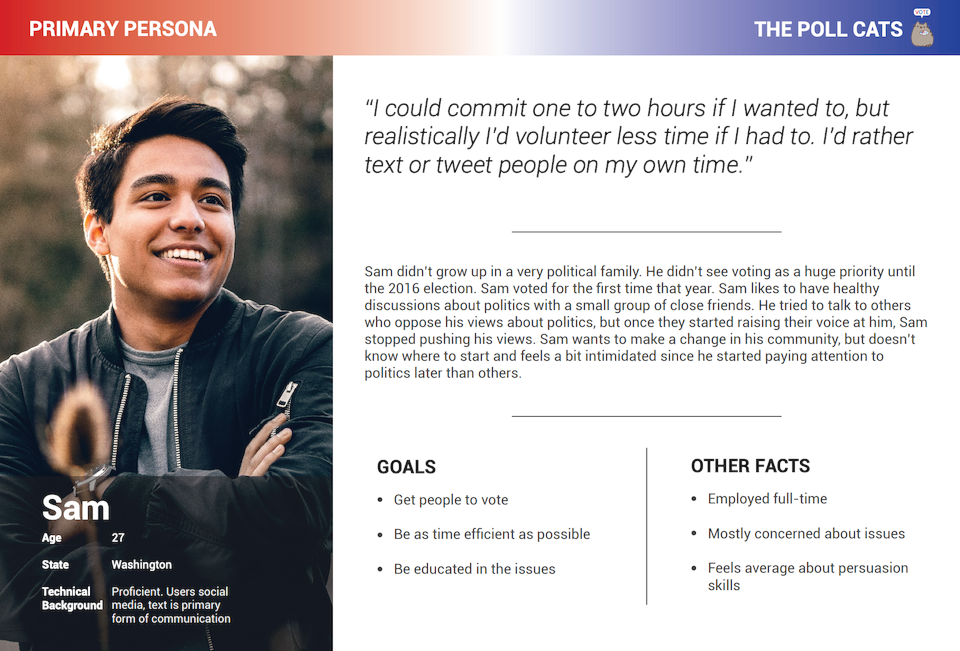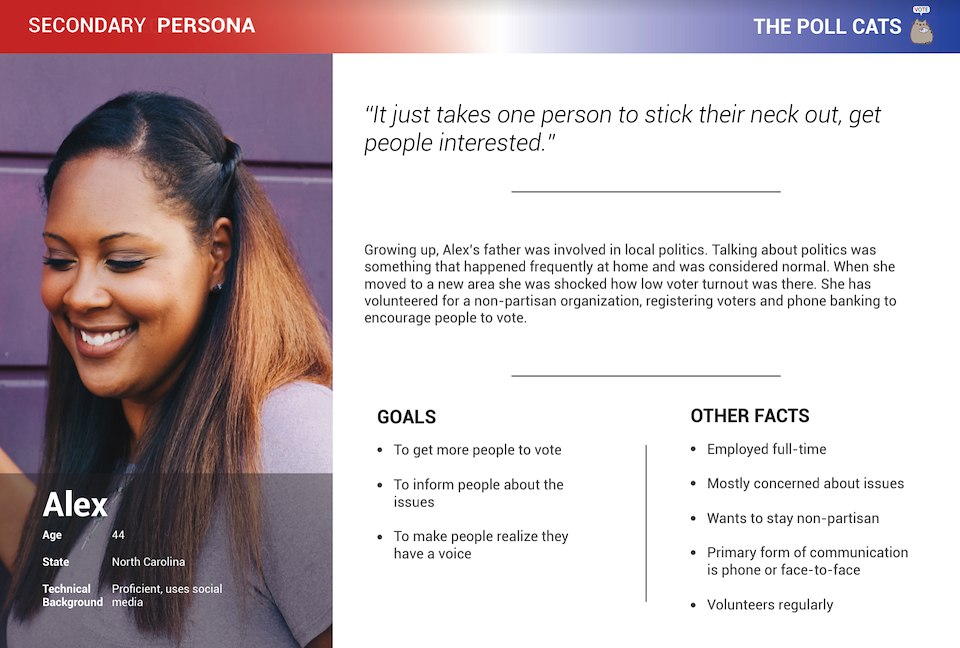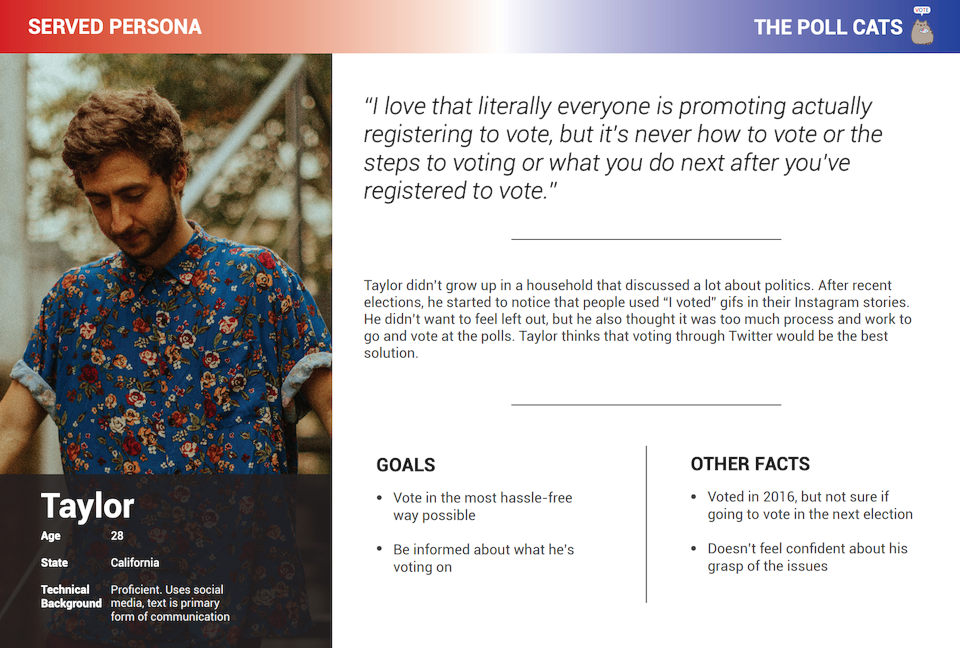 Ideation
Based on our design question, we created three categories to guide our idea-generating activity: confidence-building, enabling outreach and ease.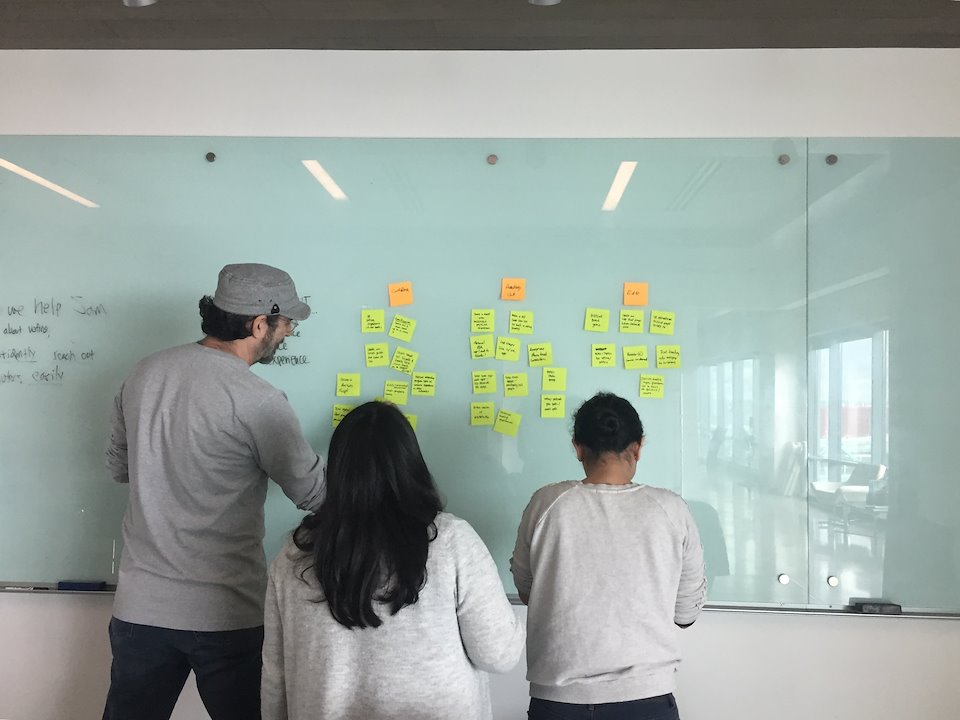 After our first round of ideation, we sorted the ideas that we had into different themes so we could identify any similar or duplicate ideas.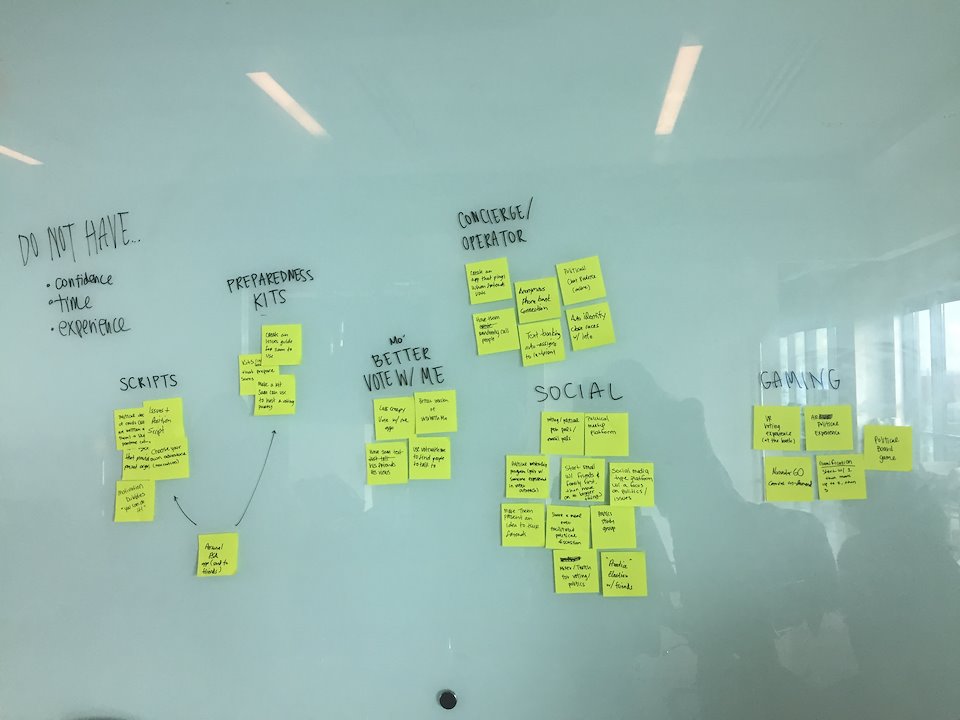 From there, we used different color stickers to vote for our favorites. The top ideas were: a virtual phone bank meetup, chat solution or a social gaming solution.


From the top ideas, we each did two rounds of sketching. During the first round, we sketched out the ways in which these different ideas could look and picked our favorite from our respective sketches. During the next round, we improved on our top sketch and talked within our team about which idea we should pursue.


The solution we agreed upon was a chat app that leveraged machine learning to help guide "Sam" through an informative and respectful conversation with "Taylor".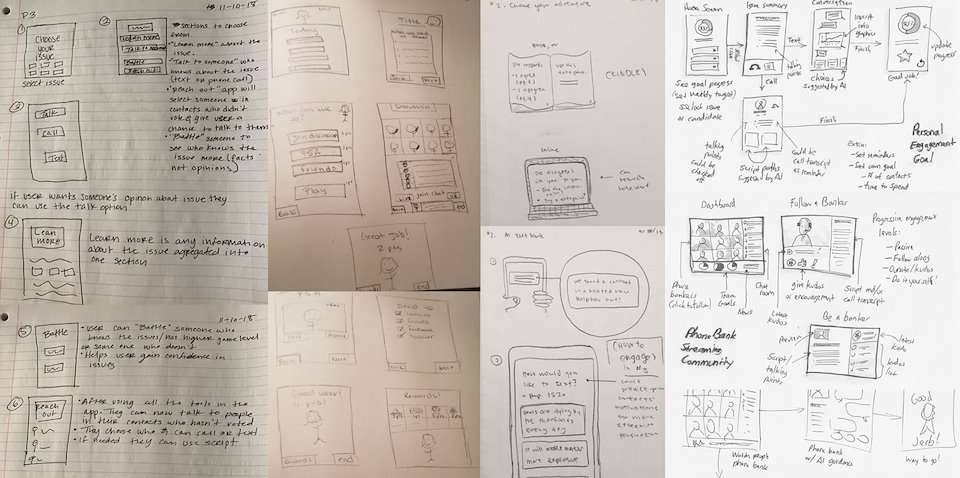 User journey
As a team, we decided on the happy path for the user journey. From there, we came up with a task list we could use when testing usability later for our prototype.

Prototype
Using the happy path we came up with as a team, I put together an initial prototype using Marvel App. We tested this prototype with four different people and received helpful feedback, detailed below.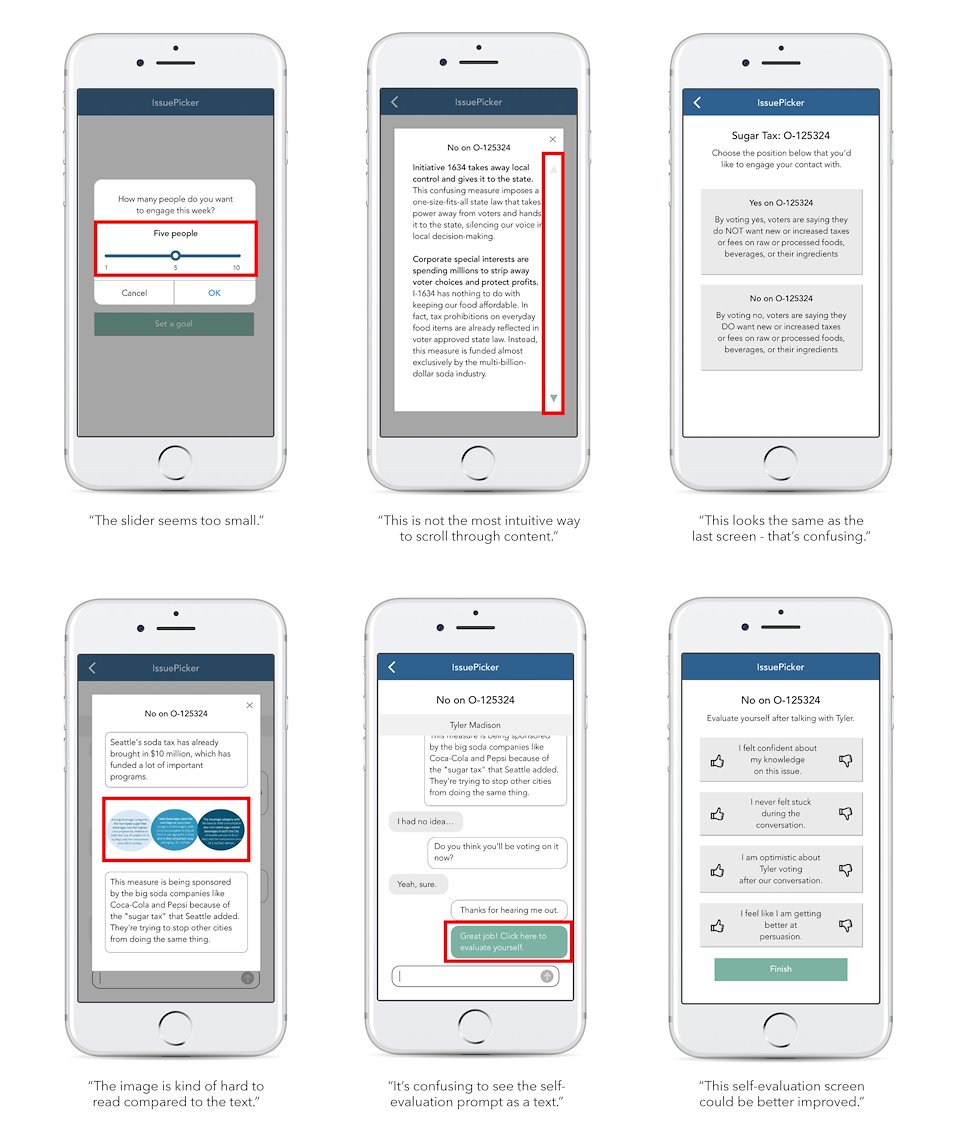 With the feedback we received, I made adjustments to the prototype prior to our next round of feedback with our classmates.
Based on the feedback we received from the second iteration of our prototype, we would add a more comprehensive onboarding experience, assign priority to contacts to choose from, and create a stronger and more distinctive visual identity for Outvote.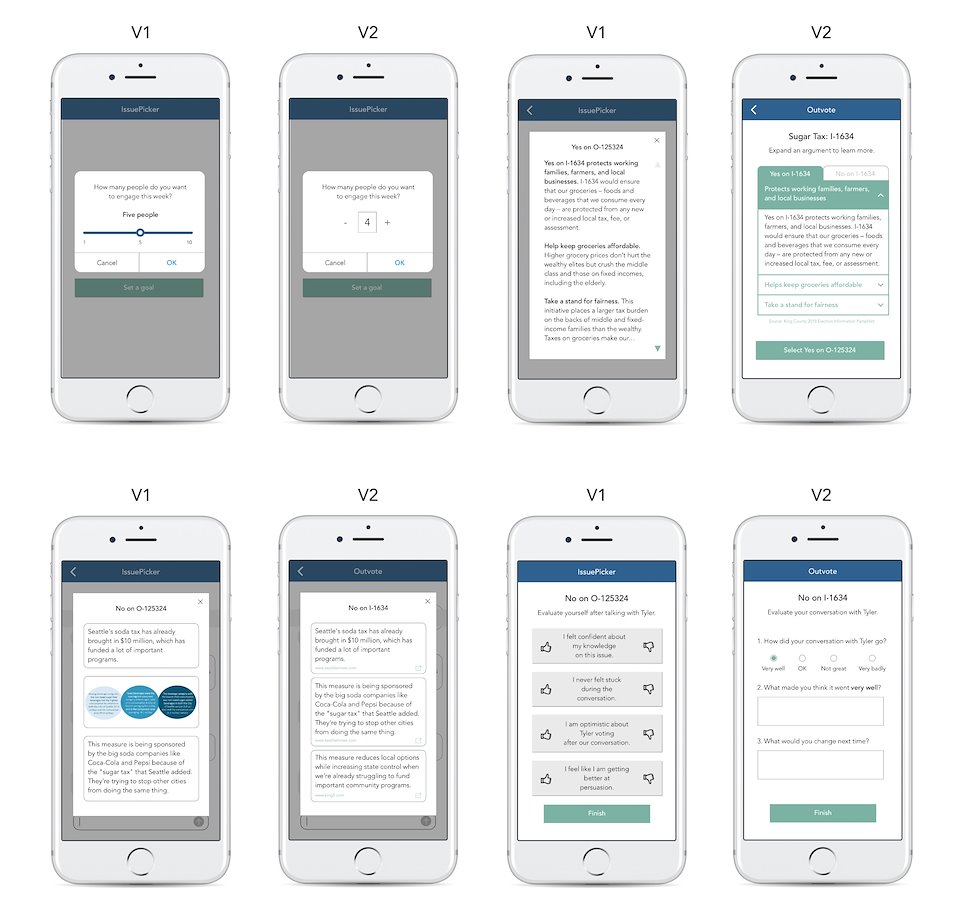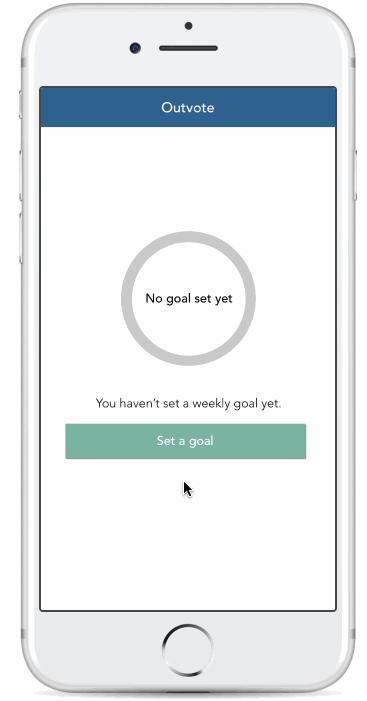 Learnings and next steps
While this was not my first design project, this was my first design project in a classroom environment. It was fascinating to compare and contrast the design work I do at my job and at school.

For this project, our design question started too broad. We also didn't have as many limitations to work with, so it took more time and effort to narrow down our question. I think it would have helped if I had made the first prototype in black and white and the second with a stronger visual identity. Nevertheless, I'm fortunate to have been part of a motivated team with a really diverse set of skills.
Previous
Hearing, Speech and Deaf Center Website - Client Project
Next
Assigned Access on Windows - Microsoft Project